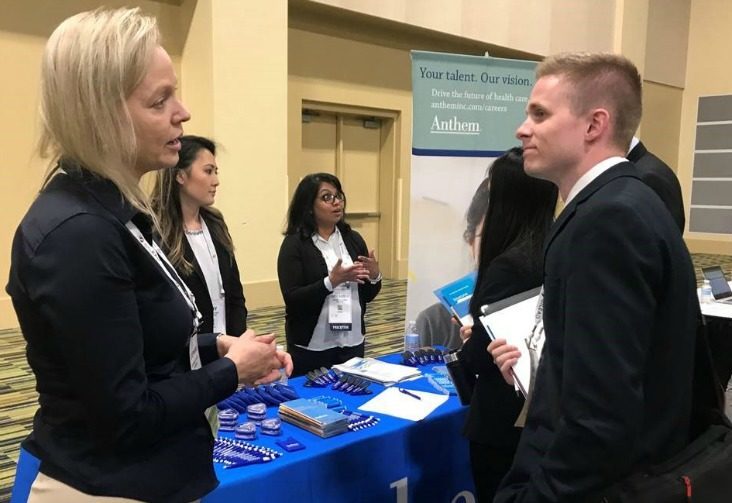 Thursday, Oct. 22 | 5-7:30pm,ET
The Virtual AMCP Managed Care Pharmacy Residency and Fellowship Showcase assists residency and fellowship preceptors, directors, residents, and fellows in fostering relationships with prospective candidates and exchanging valuable information about their managed care programs.
AMCP welcomes participation from all managed care post-graduate residency or fellowship programs in the Virtual Showcase. The contract deadline for virtual booth reservations is Fri, Oct. 9.
Questions? Contact StudentDevelopment@amcp.org
Costs to Participate
$125 to for (1) virtual table and $75 for each additional virtual table.
Staffing
All virtual booths must be staffed during Showcase hours, 5-7:30pm ET on Thurs, Oct 22.
It is strongly recommended that the following representatives participate: 1) a current or former resident/fellow, 2) a residency/fellowship director, and/or 3) a preceptor or instructor.
All Showcase personnel must be registered for AMCP Nexus 2020 Virtual.  Information on how to register for Nexus 2020 Virtual is available here.
Required Materials 
Due to the educational purpose of the Virtual Showcase, you must have the following information available at your virtual booth as downloadable PDFs:
Clearly stated residency goals and objectives
Description of academic and professional affiliations
Residency/fellowship site(s)
List of faculty and/or instructors with contact information
Key dates for residency program (application dates, beginning and end dates, etc.)
General information about stipends, benefits, etc.
Building Your Virtual Booth
Registered exhibitors will be sent a link with login information and instructions to set up your booth in the virtual event platform the week of September 21.  For an overview of building a virtual booth and engaging with customers during the show, click here.
During the Showcase, virtual exhibitors can video chat with students through Zoom as they "walk in" to their booth. They will have the ability to talk to multiple students as a group within a Zoom room and can also speak 1:1 privately with students via Zoom breakout rooms.
Virtual AMCP Managed Care Pharmacy Residency and Fellowship Showcase Demo
Participating Programs (as of 10.12.20)
Aetna Medicaid PGY-1 Managed Care Residency
AMCP Foundation Summer Internships
Alnylam PharmD Fellowship Program 2021 - 2023
Baylor Scott & White Health/UT Austin Health Economics & Outcomes Research Fellowship
Blue Cross Blue Shield of Michigan
Blue Shield of California - Managed Care Pharmacy Residency Program
Cigna PGY1 Managed Care Pharmacy Residency Program
CSS Health PGY-1 Managed Care Pharmacy Residency
CVS Health: PGY-1 Managed Care Pharmacy Residency
CVS Health PGY-1 Managed Care Specialty Innovation
Employers Health - Clinical Advisor Residency
Envolve Pharmacy Solutions - Tampa (Formerly WellCare Health Plans)
Envolve Pharmacy Solutions - Sacramento
HCA Healthcare / University of Tennessee College of Pharmacy PGY1 Managed Care
Health Care Service Corporation (HCSC) Managed Care Pharmacy Residency Program
Healthfirst Managed Care Residency Program
Highmark Inc
Humana
Jefferson HEOR Fellowship - Ethicon, Novartis, Teva and Janssen
Kaiser Permanente Georgia PGY1 Managed Care Residency Program
Kaiser Permanente Mid-Atlantic States PGY1 Managed Care Residency Program
Keck Graduate Institute Fellowship (Pharmacyclics, an AbbVie Company and Novartis Gene Therapies)
Kelsey-Seybold Clinic PGY1 Managed Care Pharmacy Residency
Magellan Rx Management
MCPHS Biopharmaceutical Industry Fellowship Program
MedImpact Healthcare Systems, Inc.
Moda Health PGY-1 Managed Pharmacy Residency
Mosaic Pharmacy Fellowship in Pharmacy Leadership and Research
Navitus Health Solutions
Novartis HEOR and Medical Access Fellowships
OptumRx Managed Care Residency Program
OutcomesMTM Clinical Services Residency Program
PacificSource Health Plans
PerformRx
Pharmacy Quality Alliance Executive Fellowship in Association Management
Premera Blue Cross PGY1 Managed Care Residency
Rutgers Institute for Pharmaceutical Industry Fellowships
SelectHealth PGY1 Managed Care
Southern Scripts, LLC
The Ohio State University Health Plan, Inc.
UMass Medical School - Commonwealth Medicine PGY1 Managed Care Pharmacy Residency
University at Buffalo SPPS/BlueCross BlueShield of WNY- PGY1-Managed Care Residency Program
University of Michigan PGY1 Managed Care Residency Program
University of Washington Postdoctoral HEOR Industry Fellowships
UPMC Health Plan
Xcenda Medical Communications and Health Outcomes & Market Access Fellowships