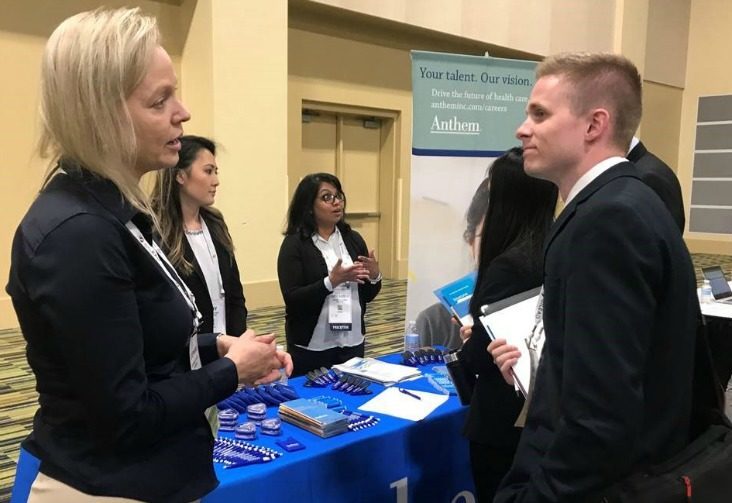 Thursday, Oct. 22 | 4-7pm
4-5pm: Open to P4s only
5-7pm: Open to all
The AMCP Managed Care Pharmacy Residency and Fellowship Showcase assists residency and fellowship preceptors, directors, residents, and fellows in fostering relationships with prospective candidates and exchanging valuable information about their managed care programs.
AMCP welcomes participation from all managed care post-graduate residency or fellowship programs in the Showcase. The contract deadline for space reservations is Sep. 22.
Questions? Contact StudentDevelopment@amcp.org
Costs to Participate
The table-top fee is $125 and includes a 6-foot draped table. Additional tables are available for $75. Space will be assigned in the order contracts are received.
The program is responsible for costs incurred for transporting showcase displays and materials, and any electrical needs. Information on shipping, handling, and electrical orders will be sent with table assignment confirmation.
Staffing
All exhibits must be staffed during Showcase hours by no more than three (3) people.
It is strongly recommended that the following representatives participate: 1) a current or former resident/fellow, 2) a residency/fellowship director, and/or 3) a preceptor or instructor.
All Showcase personnel must be registered for AMCP Nexus 2020 and at least one representative must be pre-registered. Visit the registration page for registration and housing information.
Display and Material Distribution
Only table-top exhibits will be allowed. Display materials are not allowed on the floor. The exhibit may not be a floor exhibit that is placed on top of the table. If your exhibit does not fit on a table-top, it will be removed. Tables will be placed 6 feet from each other based on CDC and MGM Grand guidelines.
Programs will be allowed to distribute educational, novelty, or commercial giveaway items of nominal value to attendees. Computer demonstrations — limited to table-top space — are permissible.
Required Materials
Due to the educational purpose of the Showcase, you must have the following information available at your table:
Clearly stated residency goals and objectives
Description of academic and professional affiliations
Residency/fellowship site(s)
List of faculty and/or instructors with contact information
Key dates for residency program (application dates, beginning and end dates, etc.)
General information about stipends, benefits, etc.
Participating Programs (List to come)