Be Front and Center Before Your Customers – Exhibit at Nexus 2020!
You have solutions. We have your customers.
AMCP meetings are managed care pharmacy's go-to events.
Managed care decision makers rely on AMCP meetings and experiences - including Nexus - to find solutions that help them make research-based formulary decisions and advance managed care pharmacy practices. In a rapidly changing health care landscape, more than one-third of AMCP meeting attendees go to both annual meetings to ensure they're up to date on cutting-edge solutions to help patients get the medications they need at a cost they can afford.
Exhibit at Nexus and we'll help you reach influential decision-makers, form beneficial partnerships, and close deals.
The Expo is where more than 75 companies meet managed care pharmacy's movers and shakers. Display and discuss the latest therapies, technologies, and a wealth of products and services affecting professionals working in managed care.
Dedicated Expo viewing includes an opening night reception, luncheon, Science & Innovation Theaters, poster presentations, and private meeting space – not to mention unlimited networking opportunities.
Important Exhibitor Registration Information:
At Nexus 2020, each exhibiting company receives one Complimentary Full Meeting registration badge and one Exhibit Only registration badges per 10x10 booth purchased.
For each additional 10x10 booth, the company receives one additional Exhibit Only registration badge.
For example:
A 10x10 booth gets:
1 Complimentary Full Meeting badge
1 Exhibit-only badge
A 10x20 booth gets:
1 Complimentary Full Meeting badge
2 Exhibit-only badges
A 10x30 booth gets:
1 Complimentary Full Meeting badge
3 Exhibit-only badges
A 20x20 booth gets:
1 Complimentary Full Meeting badge
4 Exhibit-only badges
All other registration badges must be purchased at the appropriate registration category.
Registration Information – reminder Early Bird deadline is August 18th and the advance deadline is September 15th.
Expo Hours:

Wednesday, October 21st | 5:00 pm - 7:30 pm
Thursday, October 22nd | 11:30 am - 2:30 pm
Exhibit Move In: 
Wednesday, October 21st| 8:00 am - 2:00 pm *
* Booths MUST be set by 2:00 pm
Exhibit Move Out:
Thursday, October 22nd | 2:30:00 – 5:00 pm *
* Move out must be completed by 5:00 pm
Reserve Your Booth Online:
Questions?

Laura K. Larson, CEM
Assistant Director, National Meeting Sales
703-684-2619
llarson@amcp.org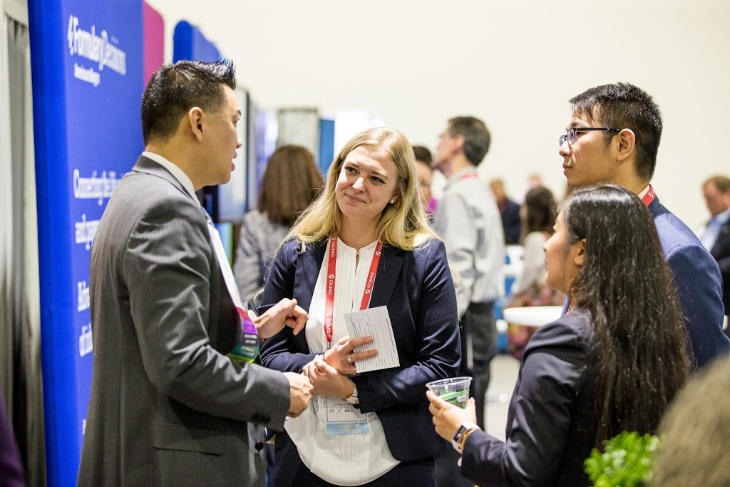 Sponsorship and Engagement Opportunities
Want Additional Exposure at Nexus? Be a Sponsor
Increase your organization's visibility at Nexus by sponsoring a thought leadership, attendee experience or attendee resource function or event. Sponsorship can help your company reach its marketing goals.
Available sponsorship opportunities include official opening night reception in the Expo, beverage breaks, luncheon in the Expo, and the AMCP Foundation's Sunrise Yoga or 5K for the Future fun run. Check out available sponsorship opportunities or contact Laura at llarson@amcp.org.
Thought Leadership Opportunities 
AMCP continues to offer powerful thought leadership solutions for achieving your critical marketing and education objectives as well as opportunities to interact with AMCP members. Contact Laura for more information.
Meeting Space in the Exposition
If you are a corporate member, exhibiting or sponsoring company and wish to secure private meeting space in the Expo adjacent to the show floor, email Laura for rates, term & conditions, and additional information.