For more detailed information please watch our Virtual Training Recordings.
High overview: 
Please use Passcode: 3U5#Rxep to view the recording.
Detailed overview:
Please use Passcode: my5=2HeT to view the recording.
Detailed overview:
Please use Passcode: D2&#1&fw to view the recording.
1. What time zone is Nexus 2020 Virtual?
Nexus 2020 Virtual is in ET, Eastern Time.
2. Who's attending Nexus 2020 Virtual?
We're anticipating 1,000+ participants, inclusive of both member and non-member managed care decision makers.
3. Do you have statistics on previous AMCP virtual events?
The AMCP eLearning Days program was held the week of April 20-24, 2020. Webinars were held twice daily between 12-1pm and 3-4pm EST, Monday-Friday.
•  Webinar session count totals: 6,620
•  Unique number of attendees: 1,698
•  The Drug Pipeline: Traditional Pharmaceuticals and Biosimilars education session had the highest attendance with 897      participants and was held during the 12-1pm time slot.
•  Average number of attendees per webinar: 662
Satellite Symposia were offered daily in conjunction with the eLearning Days program between 5-8pm with attendance averaging 673.
AMCP 2019 Science & Innovation Theater webinars averaged between 62 and 361 attendees.
4. How much is a virtual exhibit space at Nexus 2020 Virtual?
For AMCP corporate members, a virtual exhibit space is complimentary. For non-corporate members, a virtual exhibit space is $2,500.
5. What's included with a virtual exhibit space?
Virtual exhibit spaces include:
• A listing featuring your company's logo on the Nexus 2020 Virtual Expo page. Virtual exhibitors can video chat with               attendees based on appointment or via "walk in" via during Expo hours.
• Real time and post show analytics allowing exhibitors to see attendees who have clicked on their booth, as well as               viewed and downloaded materials.
•  (3) complimentary registrations.*
*AMCP Corporate members receive (4) complimentary full conference registrations, plus members receive (5) and platinum members receive (6).
6. How do I reserve my virtual exhibit space at Nexus 2020 Virtual?
Login to the Exhibitor Portal and follow the prompts to reserve your virtual exhibit. Applicable pricing will be reflected in corporate member status.
If you don't know your password for the portal, follow the online instructions or contact Laura at llarson@amcp.org
7. What if I already paid for my booth for Nexus?
We're offering options to roll funds above and beyond the virtual exhibitor fee to AMCP corporate membership, Nexus 2020 Virtual sponsorships or future AMCP events.
8. We would like additional individuals from our company to work in our virtual exhibit. How do they register?
Additional individuals should register as an attendee. You will be able to add them as someone working your virtual exhibit as part of your booth set up.
9. Will you provide guidance on how to create a virtual booth?
Registered exhibitors will be sent a link with login information and instructions to set up your booth in the virtual event platform two business days after the contract is received. For an overview of building a virtual booth and engaging with customers during the show, click here.
You must be registered for Nexus 2020 Virtual in order to gain access to your booth in the virtual event platform.
Please see Nexus 2020 Virtual exhibit example below.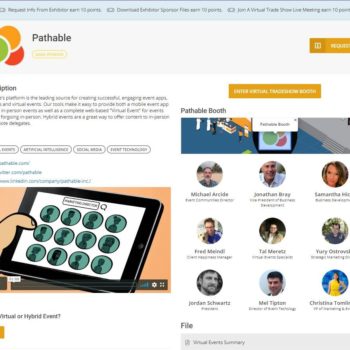 10. Where can I access the Nexus 2020 Virtual agenda? When is the Expo open?
The agenda for Nexus 2020 Virtual is available at www.amcpmeetings.org.
The meeting will be held from Tuesday, October 20 through Friday, October 23. Content from the meeting will be accessible to attendees through October 23, 2021.
Though the virtual Expo Hall will be open and accessible throughout the meeting, we have scheduled "Expo Only" hours on the following dates and times:
• Tuesday, October 20, 12-1:30pm
• Wednesday, October 21, 1-2:30pm
• Thursday, October 22, 1-2:30pm
Exhibitors will be asked to virtually "staff" their booths during "Expo Only" time to answer attendee questions.
Nexus 2020 Virtual website will be active for one-year post-event for additional exposure.
11. What system requirements are needed to optimally view Nexus 2020 Virtual?
Desktop or laptop computer (note: most computers purchased within the past few years will exceed the minimum requirements stated below.) 
Operating System:




Mac: Mac OSX 10.7 or later




Windows: Windows 10, 8, 8.1, 7, Vista (SP1 or later), XP (SP3 or later)




Ubuntu: 12.04 or later




Linux: Red Hat Enterprise Linux 6.4 or higher

 
Processor / RAM:




Single Core 1Ghz or higher (Dual core 2Ghz or higher, 4G RAM recommended)

 
Web Browser:




Windows: Chrome 72+, Edge 84+, Firefox 27+, or IE 11+




Mac: Chrome 30+, Safari 7+Edge 84+, or Firefox 27+




Linux: Chrome 30+, Firefox 27+

 

Note that the Nexus 2020 Virtual event platform is not compatible with Internet Explorer.  
Internet Connection:




1.5 Mbps "up" minimum (3+ Mbps "up" recommended).  Note: wireless speeds are lower than your ISP's advertised speeds.  You can use 

speedtest.net

 to test your speeds on your computer.
Hardware (recommended but not required) 
Webcam


The microphone and speakers that comes built-in to most computers is adequate, but a headset with a mic or a stand-alone microphone will create a richer, cleaner sound.

Mobile Web: 
Smartphone with web browser (Chrome, Edge, Firefox, or Safari recommended)


 
12. Instructions for Logging Back in to Complete/Edit Your Registration
Go to www.amcpmeetings.org
Select Register Now" on the home page.
Select Register Now on the Registration page
Select "Attendee Virtual Registration"
Select "Sign In" under Already Registered?
Enter your email address:
Enter your password: (this was created when you initially registered)
Click "Sign In"
From there, you can add Foundation events or Conference Buddy by selecting the appropriate icon.

13. I haven't received the email with my virtual booth access information. 
The email is from AMCP Nexus 2020 Virtual (no-reply@pathable.com) and the subject line is: AMCP Nexus Virtual Exhibit Booth Access. The email includes a link and login information to the Nexus 2020 Virtual platform.
We recommend checking your Spam and Junk folders as the email may get caught there.
14. Can we delete discussion posts or chats in our booth?
Posts in the discussion or chat box can be seen by all attendees.  You can delete a discussion post or a chat made in your booth by clicking on the three dots next to the post (…) and then hitting delete.
The discussion board shows once you click on a company "tile" in the virtual exhibit hall: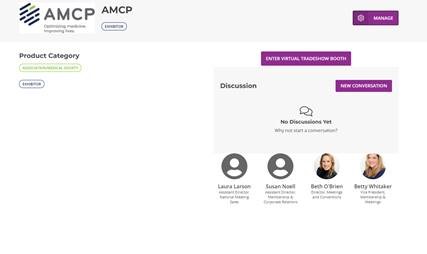 The chat function shows once you click on "enter virtual tradeshow booth:"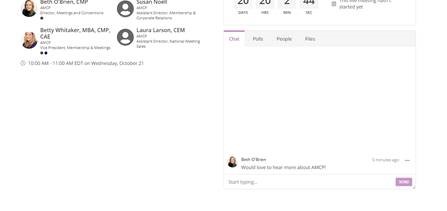 15. Logo and banner spec sizes.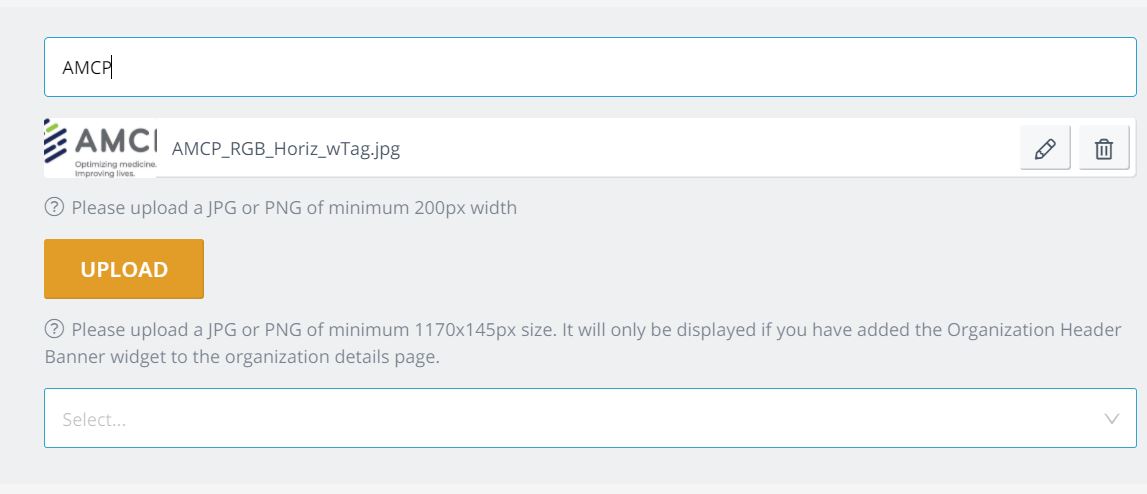 16. How can I add my colleagues as booth staff to work the booth?
AMCP is updating the Nexus platform Oct. 8 with all attendee registration information. Starting Oct. 9 booth administrators will be able to 'add' staff to their booth as booth personnel.
To Add Booth Staff, from Manage, in Manage your Team, select + / New Member circle. From pop-up box, search by Person or email, Add and Save.
To remove booth staff, click on red X in photo circle and Save. We have learned booth staff are not able to remove themselves. They have to be removed by someone else. We suggest once the original booth contact adds staff, that another booth staff remove them (Manage, Click on red X in left of staff name).
Removed booth staff will still be listed in the People section and they can edit/update their profile. If they need to be removed completely, please email llarson@amcp.org and she will remove from the Nexus platform.
17. How do I open breakout rooms?
As the Host you would click on the breakout button on the menu bar and open the "breakout rooms".
18. I have questions. Who can I contact?
Contact Laura Larson, Assistant Director, National Meeting Sales at 703-684-2619 or llarson@amcp.org.